Molly Conner | Wednesday, March 06, 2019 | Input Fort Wayne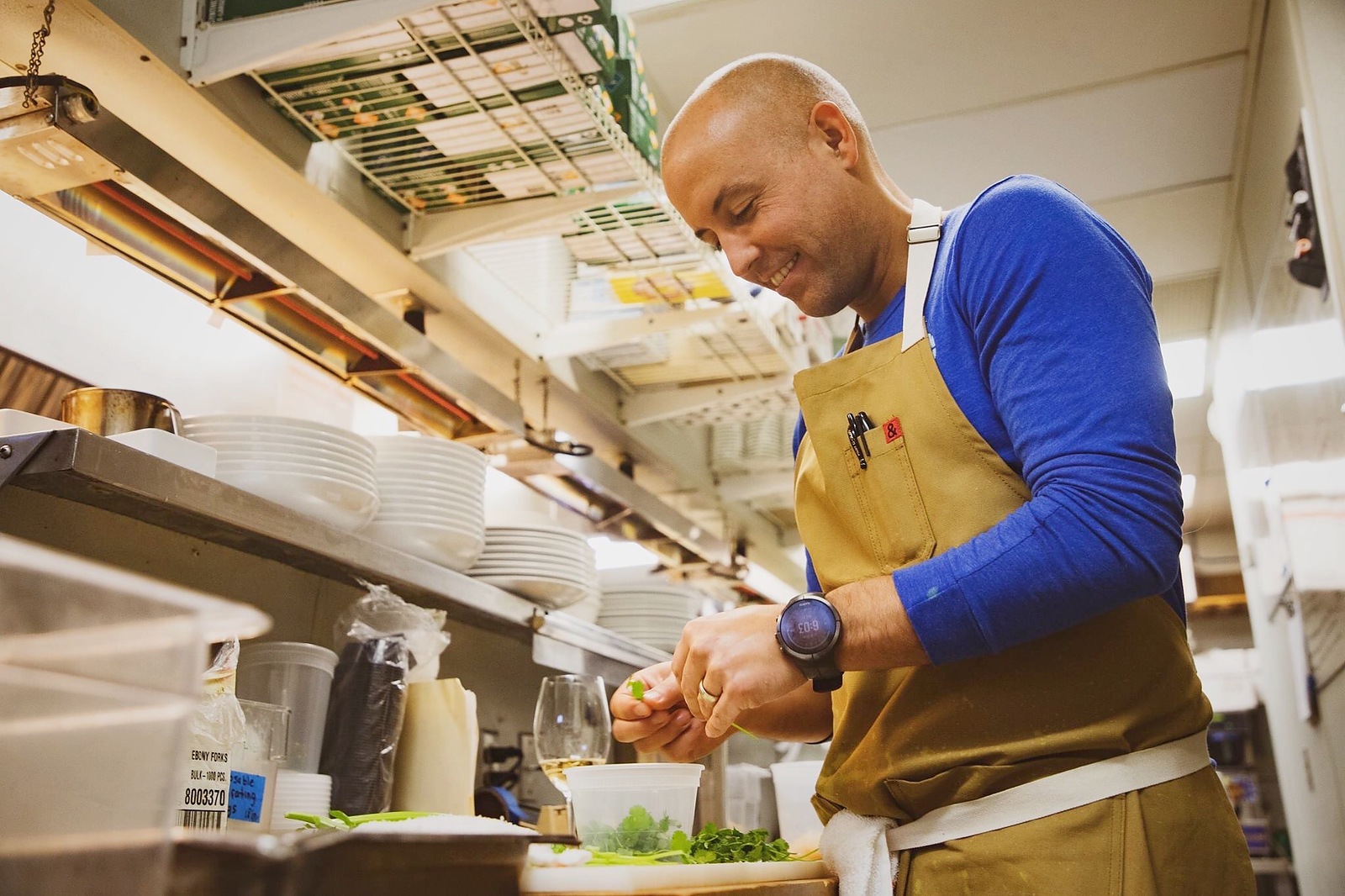 If you visit the Warsaw and Winona Lake area in northeast Indiana, you'll find something of an anomaly: a charming small-town community that bolsters a lively food scene.
While the area has a population of about 14,000 residents, it is home to an eclectic assortment of restaurants that could rival much larger cities.
In fact, the culinary scene in Warsaw and Winona Lake is unique in many ways. For one, it feels like a lovefest of friendship and fine food. It's home to a group of creative chefs who are not only masters of their respective trades, but are also dedicated to building up one another and their community.
This supportive environment may just be a reason for their prosperity.
While the Warsaw-area boasts a wide range of niche dining experiences today, many of these innovators share roots in one place: Noa Noa Wood Grill & Sushi Bar.
It was there that they were inspired by a common love of food that later translated into their own expressions; thus, creating a landscape of artful dishes, one-of-a-kind experiences, and specialized crafts.
Here are four Warsaw restaurateurs shaping the local culinary scene.
Scott Woods of Noa Noa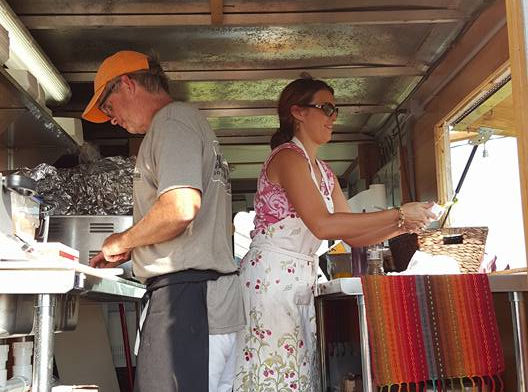 In a way, it all started with Scott Woods, who was born and raised in Indiana where he was fascinated by food from an early age.
As a kid, he'd watch Julia Child's cooking show after school. In first grade, he joined a book club, and the only books he checked out were three cookbooks—two of the three he still has today (along with his notations about how he would modify the recipes).
While he graduated from college with a degree in marketing, his love of food continued to inspire him.
"I love graphic design and art, and food just fits right in," Woods says. "It's just a different palette, but you're still painting with it."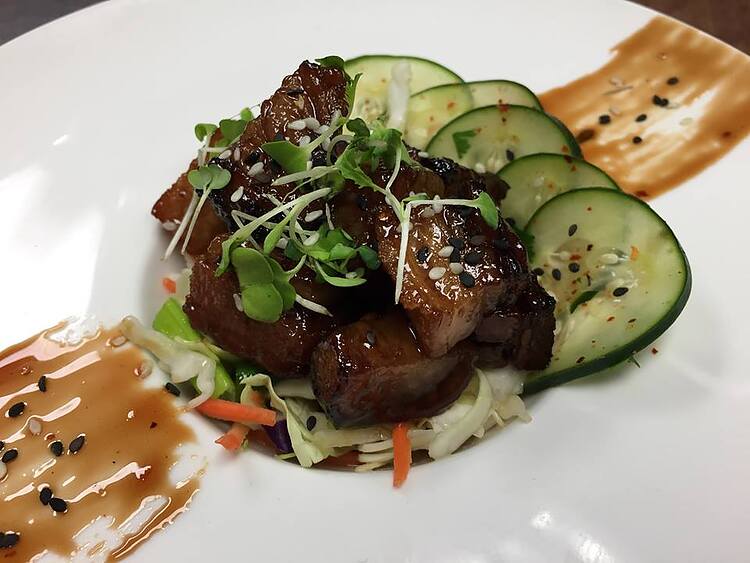 Out of college, Woods worked at an advertising agency before moving back to Warsaw in the 1980s to open a retail store. Quickly bored with retail, he set up a volleyball court and a shack outside the store. In the shack, adoringly referred to as "the love shack," he made sandwiches for people. This became what Woods refers to as the "precursor" to Spike's—his first restaurant.
In the 1990s, a couple visited Spike's fresh from a trip to the U.S. Virgin Islands. Woods and the couple struck up a conversation that ended with him going to work in French cuisine for a few seasons in St. John, U.S. Virgin Islands. He recalls the experience being tough, but motivating.
"You have to do with a lot less there," he says. "I loved it, though. I remember thinking Indiana was ready for this type of cooking. At least, I was ready for it."
So he returned to the States and took some time to work under mentors in Boston. After that, he had gained the confidence he needed to open Noa Noa: a wood-fired, Caribbean-themed seafood restaurant in the landlocked Midwest.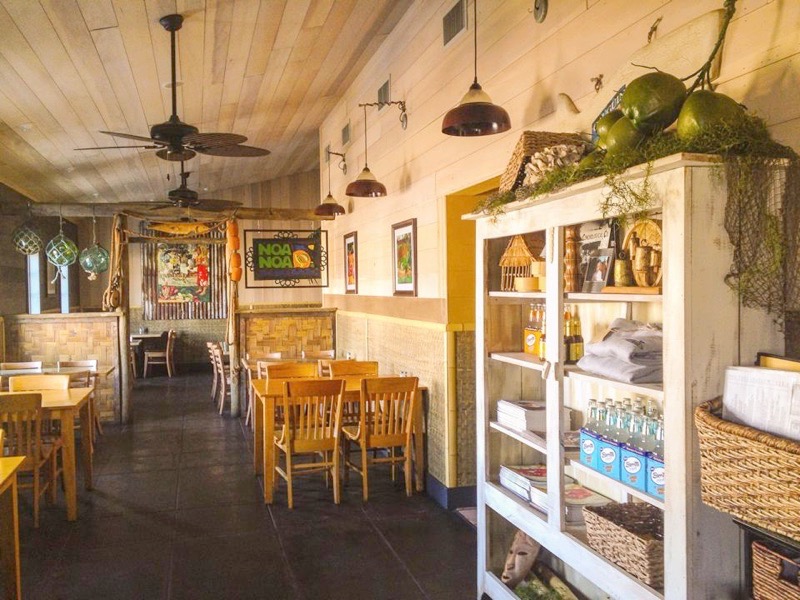 As an admirer of Paul Gauguin, Woods was inspired by his journal, Noa Noa, which means "fragrant or beautiful island" in Tahitian. Walking into Noa Noa today, you'll see this atmosphere played out and the walls adorned with Gauguin's prints.
Despite its inland location, Noa Noa is still near Warsaw-area lakes, and committed to serving fresh seafood with sustainable practices.
"90 percent of our seafood comes in fresh from the East Coast every week," Woods says. "It's like Christmas for me every time that truck shows up on Wednesdays."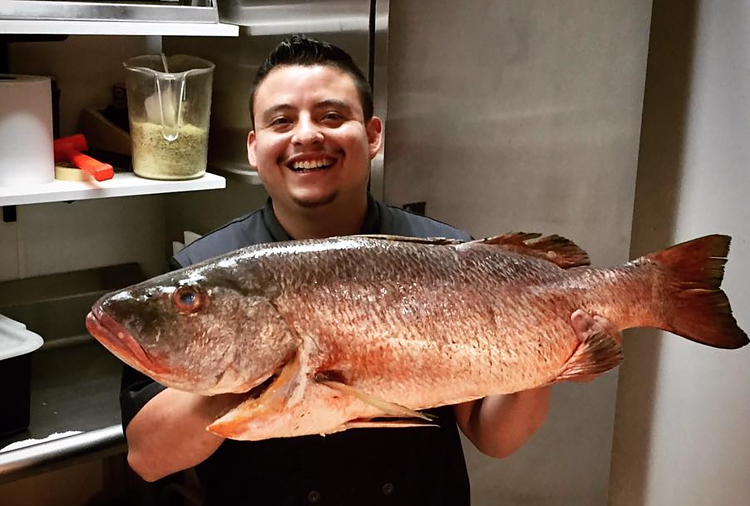 On delivery day, he has been known to indulge in some oysters fresh off the truck, alongside his morning coffee. Then, he and his chefs evaluate what they have to work with and go searching for some coastal inspiration to line up their menu.
Over the years, Noa Noa has been expanded three times and has gone from a staff of three to a staff of 60.
"It's crazy to think of how we've grown," Woods says, chuckling. "I should've majored in human resources."
With his legion of skilled workers, Woods is considered by many to be the "godfather of fine dining" in Warsaw, leading a legacy of up-and-coming chefs who share his passion for food and his drive to make a plate the best it can be.
His favorite dish? While he can't pick a favorite dish, he can pick a favorite fish: the Monchong. The Monchong hails from Hawaii. His favorite way to prepare it? Grilled with a squeeze of lemon. "The simpler the preparation, the better," Woods says. "It allows the fish to shine."
Caleb France of Cerulean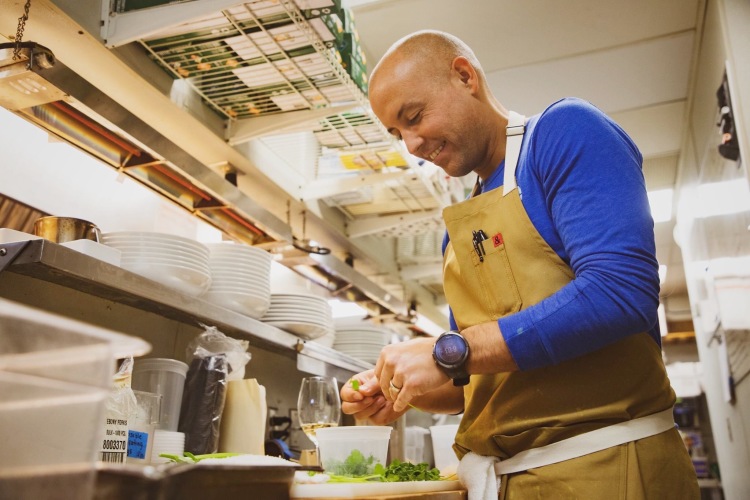 Caleb France grew up "bouncing around from cornfield to cornfield," as he puts it. While he is a Fort Wayne native, he spent most his childhood in Goshen about an hour northwest of the city.
In college, he studied business and finance at Taylor University in Upland, but he couldn't shake the passion for cooking he gained while working at Noa Noa while he was in school. Combining his interests in food and business, he decided to pursue a profession in the culinary world.
At first, France thought there was no way he'd stay in Indiana, but when an opportunity arose at a prime location in the Village at Winona, he couldn't turn it down. Nowadays, he calls himself "unapologetically proud to be from Indiana."
"I like to say that our goal here in northern Indiana is to breakdown costal ignorance, right? To make this a cool place to live and make sure people are really proud to be from here," he says.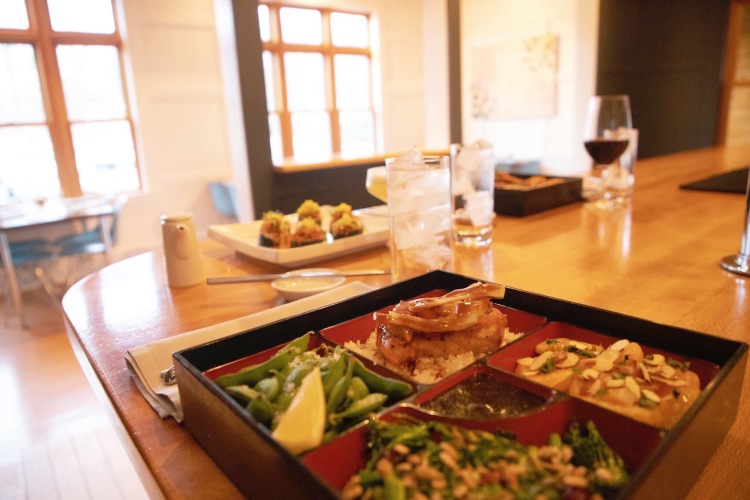 France is helping to boost the local quality of life by opening Cerulean, a hip spot off the canal of Winona Lake that features Asian-inspired dishes, like bento boxes, sushi, steam buns, and ramen, peppered with some Midwestern twists.
In doing so, Cerulean has been serving farm-to-table food and curating beautiful meals before it was trendy.
"We wanted to create a place the shows off the flavors, the flora, and the fauna of Indiana," he says. "We also really wanted to create community and communion through food and beverage. That starts with our team and then permeates all the way down to the customer. That's our culture and something we live and die by."
As France prepares to open a new brewery and barbecue joint on the Landing in Fort Wayne, his regional influence as a chef continues to grow.
His favorite dish? The Indiana cheese board. "We get to source from all the best creameries in Indiana, and we pair it with some jam and toast that we make in-house. It's a really great expression of why I'm unapologetically proud to be from Indiana. There's so much to offer, and these Indiana creameries will really blow you away," France says.
Jason Brown of One Ten Craft Meatery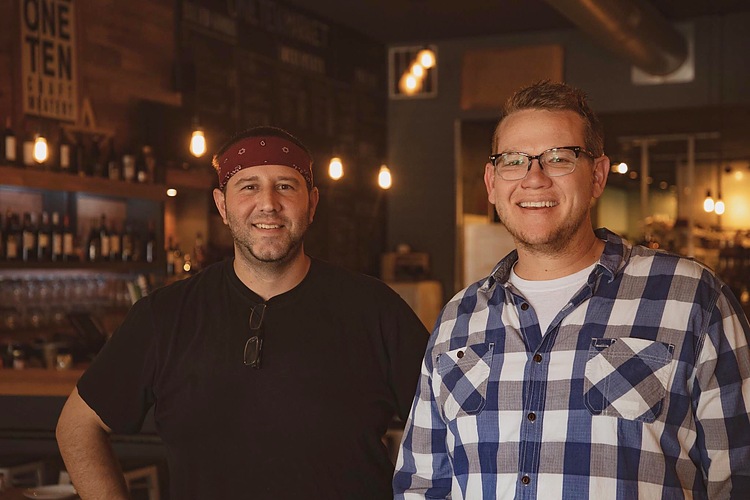 Jason Brown grew up in an orthopedics household in Pierceton, Indiana. As a kid, visiting Warsaw felt like a trip to the big city. On one of those visits, a 16-year-old Brown was offered a job at Noa Noa. Knowing nothing about food, he took a big leap.
"Scott put me on the sauté line that first night, and it forever changed my life," Brown says. "It was the most invigorating experience I have ever had. I went home thinking that this adrenaline rush is something I want to be a part of forever."
While he worked at Noa Noa throughout school, he initially wound up fulfilling his family's expectations by starting his career in the orthopedic industry.
"I tried to go be a suit in downtown Indy," he says. "I tucked my tail for 4 years before I said, 'You know what? I'd much rather wear an apron and be myself.'"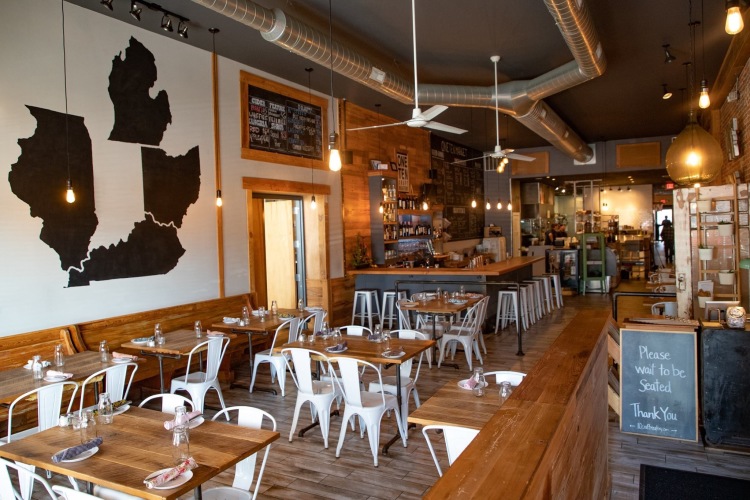 It was a matter of happenstance that landed Brown in Warsaw. He was pondering his career change at the same time his aunt was thinking about selling the family-owned building in downtown Warsaw across from the courthouse. With an heirloom building in tow, Brown was ready to start paving a path of his own creation.
"I would sit in front of the building before it was anything, and I'd survey the people who'd walk by to see what they wanted in their community," Brown says. "Steakhouse was the answer I kept getting."
That told him "the what" part of what he should do, but it didn't tell him "the how." To discover that, Brown surveyed his morals.
"I wanted to be a conscious business owner," he says. "Farm-to-table was a no-brainer. The steaks we sell come from farmers that we know, and we work with those farmers to balance our orders with what they can realistically supply. At the end of the day, we want the consumer to feel good about what they're spending their money on, and I want to feel good about what I'm selling to people."
Today, transparency is everywhere at One Ten Craft Meatery, from its list of food sources to its exposed kitchen where you can catch glimpses of the chefs in action. Its essence reflects Brown's deep love and respect for the food he prepares and the people he shares it with.
He even has his own One Ten Values and One Ten Commandments posted on the restaurant's website.
His favorite dish? Stone Duck. One Ten is a seasonal restaurant, but if you're lucky, you may stop in when they're serving the Stone Duck, Brown's proudest concoction and one-time feature in Edible Michiana.
Andrew Jones of Rua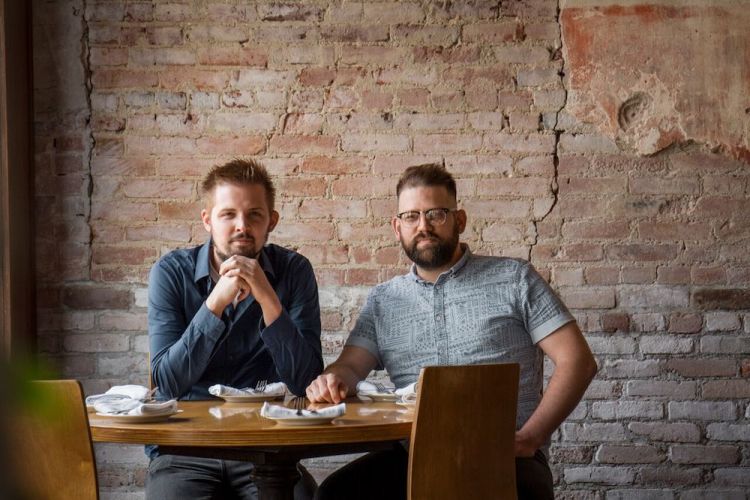 Andrew Jones grew up in the Warsaw area. Instead of seeking formal education, he chose to get as much experience he could working for what he refers to as "the best in the area."
Another one of Scott Woods's protégés, Jones started working at Noa Noa when he was younger. Very early on, he knew he wanted to run his own restaurant someday. But he wanted to get more experience first.
Prior to opening his restaurant, Jones operated a catering business for six years under the Rua moniker. He used those formative years in catering to develop better business practices and cultivate client relationships.
When he decided to rebrand Rua and add the restaurant component, he recruited Andrew Holladay, a long-time friend, to help. Holladay was working as a chef de cuisine in Chicago at the time, but he put the Windy City on hold to get the Warsaw restaurant up and running.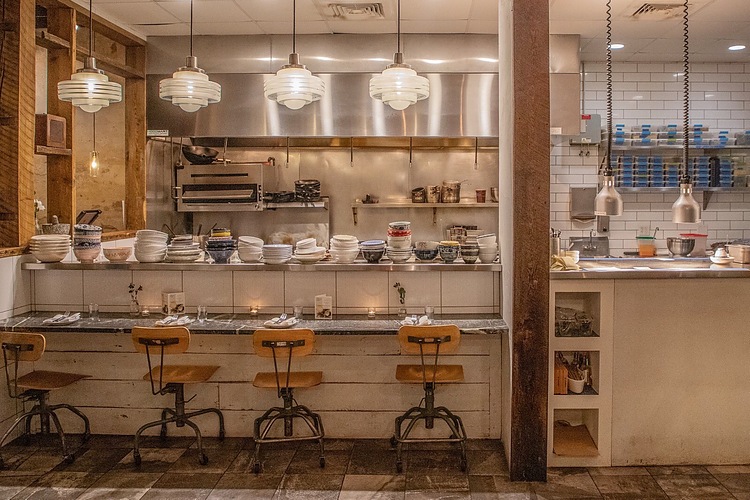 Next came choosing the cuisine. Jones grew up with an affection for southeast Asian cuisine, which he credits to his aunt from Thailand. So when he and Holladay were choosing a style of cuisine for Rua, he knew he wanted to incorporate his favorite flavor profiles into the menu. To expand its appeal and avoid putting Rua in a culinary box, he and Holladay decided to serve what they call "international street-food inspired" dishes.
"With our flavors, you can definitely point to a cultural region in every dish, but sometimes we're less traditional and more creative when we put things together," Jones says. "No matter what, the characteristics of street food are always there."
At Rua, all the food is made from scratch, and the menu is designed to be shareable with both small plates and big plates.
"That's how we like to eat," Jones says. "When we go out, we want to try a little bit of everything, and we wanted people to be able to do the same here."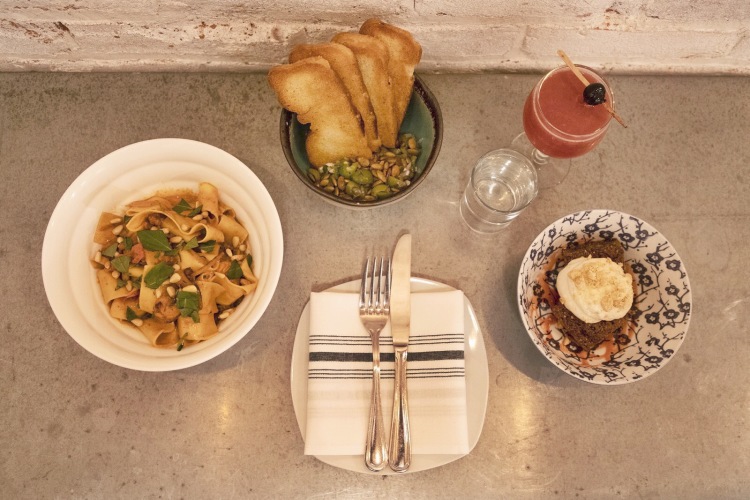 Walking into Rua, there's an urban vibe mixed with the warmth and friendliness you come to expect from the Midwest.
"We don't do uniforms because we want everyone to feel comfortable in their own skin," Jones says. "We definitely aim to have a vibe where everyone's enjoying themselves together, that means staff and customers."
He and Rua have mastered elements of fine dining, but in a relaxed, casual atmosphere.
"We want to offer a level of quality, but not be stuffy or upper-crusty," he says. "Our goal is always to make everyone feel welcome."
His favorite dish? It's hard to pick just one. A few favorites include: the pao de queijo (Brazilian cheese bread), the fried potatoes with horseradish aioli, the house-made farmer's cheese, the pappardelle pasta, the grilled hanger steak, and the beet cake.